How to Make a Big Picture out of Small Pictures
Have you ever seen those ultra cool pictures made of many smaller pictures as shown in the illustration above?

They're called photomosaics.

Do you wonder how easy or difficult it is to make one, how expensive would it be, and do you need an artist to design one for you?

Here's your answer - it's super easy, very affordable, and you can do it yourself with TurboMosaic photomosaic maker for Mac & Windows PC!

In this article, we'll show you how to make a photo made up of many photos.

Video demo - how to make a picture made of little pictures
What is a Photo Mosaic?
A photo mosaic is a photo made from smaller photos. When viewed from a distance the big picture is prominent whereas when viewed from close up the individual smaller images show out distinctly.
How to Make a Photo Mosaic?
Our TurboMosaic software for Mac and Windows PC makes creating photo mosaics super easy.

Stuff you'll need:
1. A digital image that you want to use as the big picture.
2. Digital images to use as smaller pictures.
3. TurboMosaic installed on your computer.
4. Few minutes of your time!

You can free download and install TurboMosaic from here.

Here's a video that demonstrates how to use little photos to make a big photo in TurboMosaic:
View some more photo mosaic examples here and learn more about making photo mosaics in TurboMosaic here.

Different Questions, Same Answer: You need a photo mosaic!
We are often asked the same question in numerous different ways. How to make
a picture made of pictures
image made from smaller images
picture out of tiny pictures
a picture made up of smaller pictures
big picture made up of little pictures
one photo from multiple photos
large picture made of smaller pictures
How to get small photos to make one large photo?
The simple answer: you need to make a photo mosaic. The good part is that you can quickly create a photo mosaic using TurboMosaic.
Apart from mosaics, photo mosaics are another type of "pictures of pictures."
Photo Collages
A Photo Collage is a photo of photos made by combining multiple photos in various types of arrangements such as a pile of pictures or a picture grid.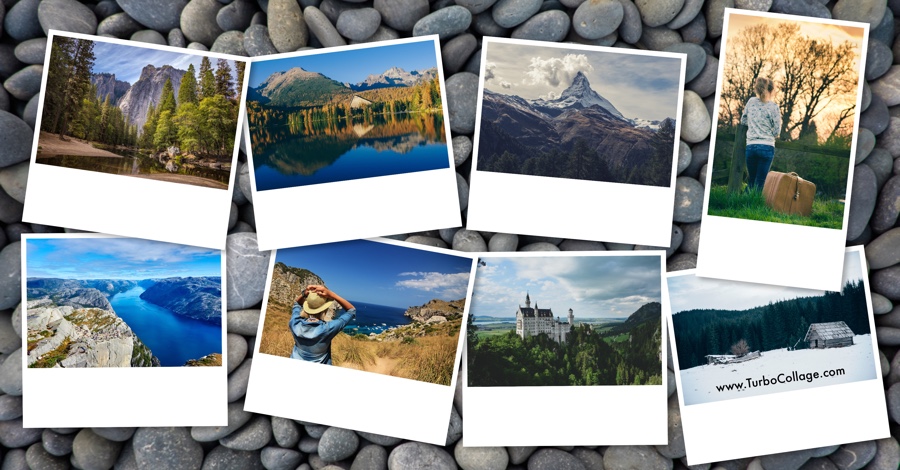 Anyone can quickly create photo collages using our TurboCollage software. Learn more about making photo collages on TurboCollage website.
View different types of collages here.
Have more questions? Please email us to turbomosaic@silkenmermaid.com